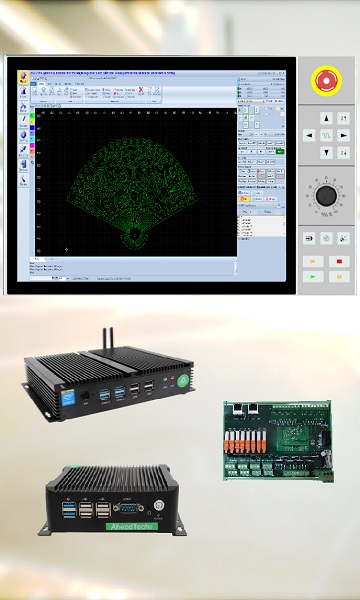 AX3000 EtherCAT Motion Control System
High-speed flat cutting; Compatible to X/Y/Z axis servo based on EtherCAT or Pulse+Direction .
Process database can be expanded as clients require.


Fly cut, down jump, compensate, lead, micro-joint,  pre-pierce, multilevel pierce and film cut etc…


Auto FindEdge, manual FindEdge,  auto sort and break point cut, etc…


Cooling point and triangle cut.


Auto sort: auto transferred to system recognized format, auto sorted  and generate to NC or PART files.


Compatible to various lasers.


Compatible to processing by manual G code modification


Communication: EtherCAT protocol control with real-time refresh cycle 1ms.


Accuracy: path 0.005mm, positioning 0.001mm, repeated positioning 0.002mm.


Speed: max. acceleration 3G, max. cutting 80mm/min, max. dry motion 250m/min.


Safety: overload protection to axis moment, real-time monitoring to axis moment to stop and upload servo alarm.


FindEdge: Auto FindEdge and manual FindEdge (Auto FindEdge can turn angle automatically by detecting slight angle deviation of metal material).


Alarm: alarm log export to give reference to operator.


Friendly maintenance: auto calibration and break point mode.


Commissioning: close-loop arc detection feature to save commissioning time. Torque monitoring feature to detect the status of mechanical meshing if it is too tight or loose.

DOWNLOAD: Demo_RayTools2DCut_PackageV3.7.3503.565
HMI PC (Master)

EPC-1010 (Windows)

Analog Input

4

Engine PC (Slave)

EPC-2000 (Linux)

Analog Output

4

I/O Module

EDS2000

PWM

2x24V/2x5V

Extended I/O Module

EDS2010

General Axis Interface (Pul/Dir)

4 (X/Y/Y1/Z)

Digital Input

40

 

F axis Interface (Auto Focus)

1

OC Output (24V)

16

 

Height Sensor Interface

1

Relay Output

8

Communication

EtherCAT

Transistor Output

8

Software 

2D Cut software + nesting