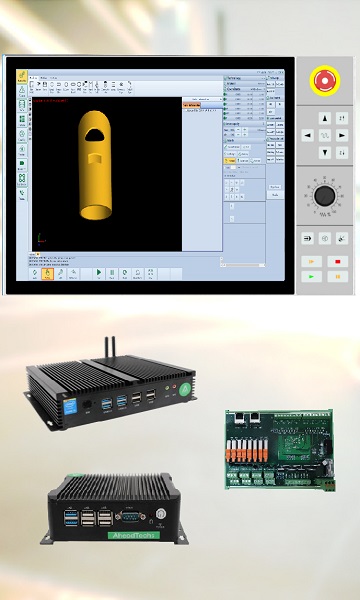 AX3000T EtherCAT Motion Control System
High-speed flat & tube cutting; Compatible to X/Y/Z/U axis servo based on EtherCAT.
Process database can be expanded as clients require.

Auto FindEdge, manual FindEdge,  auto sort and break point cut, etc…

Fly cut, down jump, compensate, lead, micro-joint,  pre-pierce, multilevel pierce and film cut etc…

Cooling point and triangle cut.


Auto sort: auto transferred to system recognized format, auto sorted  and generate to NC or PART files.

Compatible to various lasers.

Applicable to cutting of L, U, H profile as well as circular and rectangular tube. Individual corner process is supported to improve corner cutting quality.

Graphic and NC file import: SJ or STEP. Graphics could be sorted or directed cut.

Communication: EtherCAT protocol control with real-time refresh cycle 1ms.

Accuracy: path 0.005mm, positioning 0.001mm, repeated positioning 0.002mm.

Speed: max. acceleration 3G, max. cutting 80mm/min, max. dry motion 250m/min.

Safety: overload protection to axis moment, real-time monitoring to axis moment to stop and upload servo alarm.

FindEdge: Auto FindEdge and manual FindEdge (Auto FindEdge can turn angle automatically by detecting slight angle deviation of metal material).

Alarm: alarm log export to give reference to operator.


Friendly maintenance: auto calibration and break point mode.


Commissioning: close-loop arc detection feature to save commissioning time. Torque monitoring feature to detect the status of mechanical meshing if it is too tight or loose.


Center search by 4 sides: real-time offset compensation to tube center which facilitates clamping and improve piercing accuracy increasingly.
HMI PC (Master)

EPC-1010 (Windows)

Analog Input

4

Engine PC (Slave)

EPC-2000 (Linux)

Analog Output

4

I/O Module

EDS2000

PWM

2x24V/2x5V

Extended I/O Module

EDS2010

General Axis Interface (Pul/Dir)

4 (X/Y/Y1/Z)

Digital Input

40

 

F axis Interface (Auto Focus)

1

OC Output (24V)

16

 

Height Sensor Interface

1

Relay Output

8

Communication

EtherCAT

Transistor Output

8

Software

 2D & Tube cut software + nesting